Overview
XSpace Simulator is an interactive spacecraft simulator that can be downloaded and run from your browser. The simulation accounts for different gravitational, atmospheric, and propulsive models.
A user can control the propulsion of any spacecraft to alter its orbit. Its use, however, consumes the limited propellant available on each spacecraft (fortunately, a magical "Refuel" button is available). For assistance, an autopilot is available to efficiently execute different orbital maneuvers such as orbit-raising and orbital rendezvous.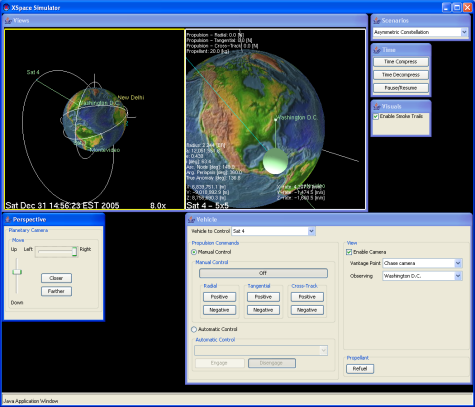 Earth image courtesy of
NASA/JPL-Caltech
Launch XSpace Simulator

the Simulator using a
JNLP client
(e.g.
Java Web Start
or
Netx
).
(Initial download of 4.5 MB
Troubleshooting Notes
Required
Java 1.5+ to be installed
Suggested
A high-resolution display setting helps to view the entire simulator. Click on the screen shot above to see how much screen space is required.
A 32MB+ graphics card with an OpenGL driver installed (to reduce the load on your CPU)
If you do not have Java installed, you may also see the Simulator in action in the tutorials.